Soroptimist/LiveYourDream.org is pleased to announce the launch of our new global program for girls. Dream It, Be It: Career Support for Girls will help girls grow up to be strong, successful, happy adults. Dream It, Be It targets girls in secondary school who face obstacles to their future success. It provides girls with access to professional role models, career education and the resources to live their dreams. Soroptimist clubs will work in partnership with girls in small groups or a conference setting to provide them with the information and resources they want and need to be successful. The topics covered include career opportunities, setting and achieving goals, overcoming obstacles to success and how to move forward after setbacks or failures.
Dream It, Be It joins Soroptimist's long-running program Live Your Dream: Education and Training Awards for Women (formerly the Women's Opportunity Awards). The Soroptimist Dream Programs ensure women and girls have access to the education and training they need to reach their full potential and live their dreams.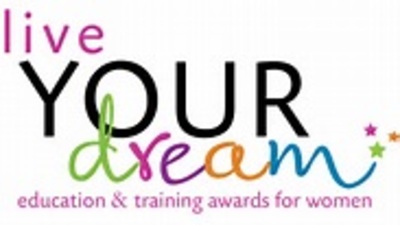 The Soroptimist Live Your Dream Awards assist women who provide the primary source of financial support for their families by giving them the resources they need to improve their education, skills and employment prospects.
Each year, more than $1.7 million in education grants are awarded to more than 1,300 women, many of whom have overcome enormous obstacles including poverty, domestic violence and/or drug and alcohol abuse. Live Your Dream Awards recipients may use the cash award to offset any costs associated with their efforts to attain higher education, such as books, childcare, tuition and transportation.
In addition to providing the primary financial support for their families, eligible applicants must be enrolled in, or have been accepted to, a vocational/skills training program or an undergraduate degree program and must demonstrate financial need. Also, please note only residents of Soroptimist International of the Americas' member countries and territories are eligible to apply for the educational grants.
The Live Your Dream Awards involves three levels of cash awards. The program begins at the local Soroptimist club-level, where award amounts vary. Local-level award recipients become eligible for region-level awards of either $3,000 or $5,000. Region-level award recipients then become eligible to receive one of three international-level awards of $10,000.
Since the Live Your Dream Awards program began in 1972, about $30 million in education grants have been disbursed to assist tens of thousands of women achieve their dreams of a better life for themselves and their families. In 2007, the program received the Associations Advance America Summit Award—ASAE & The Center for Association Leadership's highest level of recognition.

Interested in applying for the Live Your Dream Awards? Applications for the 2017 awards will be accepted between July 1, 2017 and November 15, 2017.

The Soroptimist Ruby Award: For Women Helping Women recognizes and honors the first federation president, Ruby Lee Minar. A ruby is also a deep red gemstone associated with wisdom, importance, vitality, strength, vivacity, power and love: all words embodying the strong and compassionate women who are our award recipients. The Soroptimist Ruby Award honors women who have worked to improve the lives of women and girls through their professional and/or volunteer work.