Soroptimist, working with Klamath Youth Development Center, are hosting a Community Baby Shower to help welcome and provide for the newest members of our community.  Saturday, April 23, 11:00 to 1:00pm at the Community Lounge, 200 North 7th Street.
Too often, the joy that should accompany the birth of a new baby is marred by poverty, domestic violence or abuse.  For these babies, there may not be a welcoming celebration, baby shower or even resources to meet the new baby's basic needs.  Suggested Donations:  disposable diapers (all sizes), baby oil, shampoo or powder, t-shirts, onesies and socks, receiving blankets and quilts, baby wipes and pacifiers, bottles, knitted booties and hats, clothing, sizes newborn to 3T, pajamas and formulas. 
Soroptimist announces their spring Fundraiser CASINO NIGHT!  Saturday, April 9th.  7:00 to 10:00 pm.  Reames Golf & Country Club.  Tickets are $25.00 and include appetizers and drinks.  Tickets are available at Winema Electric, Beach's Jewelry or by calling 541.850.2526.  Raffle Prizes include Nike golf bag and putter, Rifle, 1/2 Beef, 32″ color TV and much More!
Proceeds will help fund our many service projects, which include:  SMART, KCC Scholarships, Crisis Center, Food Bank, Norma's Challenge, OIT Scholarship, Crisis Center Building Fund, Camp Evergreen, Miss Klamath County Scholarship, Violet Richardson Award, Women's Opportunity Award, Making a Difference for Women Award and others.
Niki Sampson from the Klamath Lake Food Bank was the guest speaker at the March 16 meeting. Niki came with a big THANK YOU for the donations made by the local Soroptimist Club. These donations included: Ten-ton food sponsor at the Safeway Food Drive in November 2010, "Wishes Come True" donor that helps families enduring devastating life situations, Christmas and Spring Food box drive for children of low income families. 20,000 people have used these programs as the Food Bank distributes 1.5 million pounds of food to 70 vital non-profit programs.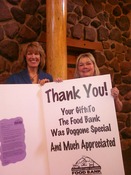 Each February Soroptimist's pack food boxes at the Klamath Lake Food Bank to coincide with the school systems Spring Break. Researched showed that those children receiving meals during the school sessions go with very little or without nutritious food when not in school. These boxes are intended to help supplement the family food supply during the traditional school spring breaks.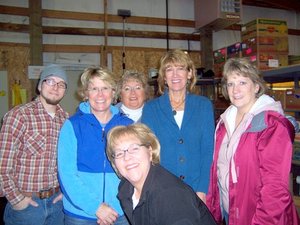 During the annual awards luncheon, Soroptimist International of Klamath Falls presented community members with the Ruby, Violet Richardson and Woman's Opportunity Award. 
From left to right:
Soroptimist Member Judy Phearson: Chairman of Ruby Award Committee
Soroptimist Member Linda Davenport: Chairman of Violet Richardson Award
Trudy Novak: Winner of the Ruby Award
Amand Krueger: First place winner of Violet Richardson Award
LaBeads Yahwee: Second place winner of Woman's Opportunity Award
Amanda Dittmeyer: First place winner of Woman's Opportunity Award
Kelsie Quick: Second place winner Violet Richardson Award
Soroptimist Member Nancy Dey: Chairman of Woman's Opportunity Award
Klamath Lake Food Bank, Ten Ton Food Sponsor
Soroptimist members gather at the Klamath Lake Food Bank during the Christmas season to pack boxes for those in need.
Celebrating 20+ Year Members
During the month of October every year each Soroptimist Club celebrates the founding of our organization. The year was 1921 in Oakland, California. During that year clubs were also established in San Francisco, Los Angeles and Washington, DC. In 1938 the Portland, Oregon Club chartered Soroptimist International of Klamath Falls. During our October 2010 Founders Day Program all our member with over 20 years of membership were honored.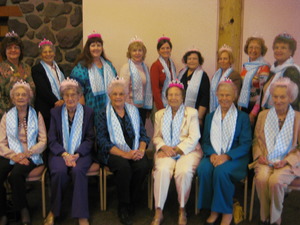 Pictured back row, left to right are:
Kathy King (22 yrs), Sarah Parsons (30 yrs), Lynan Baghott (29 yrs), Pari Pedersen (24 yrs), Ann Cavanaugh (21 yrs), Kay Short (29 yrs), Sue Shapiro (30 yrs), Barb Thom (23 yrs), Joan Staunton (25 yrs). Front row: Ida Lasset (53 yrs), Elsie Warren (31 yrs), Barbara Roufs-Massey (31 yrs), Marie Owens (42 yrs), Doris Bowen (23 yrs), Carol Broderick (42 yrs). Not Pictured: Paula Clinton (41 yrs), Cindy DeRosier (23 yrs), Trudy Farr (41 yrs), Frances Hahn (43 yrs), Marybeth Hines (34 yrs), Felice Koblos (20 yrs), Karen Lynch-Wendt (22 yrs), Darle Runnels (35 yrs)
Celebrate the Joy of Giving, Holiday Bazaar
The Soroptimist's annual holiday bazaar, Celebrate the Joy of Giving, will be held on December 2, 2010 at Reames Golf and Country Club.  The silent auction will begin at 11:00 am followed by the oral auction at 12:30 pm.  The lucheon will be served at 12:00 noon.  Reservations are being accepted by Vonnie Powley, 541.891.1967 or 541.882.0364.  The luncheon is $25.00.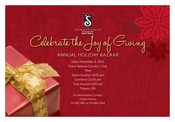 The Soroptimist club of Klamath Falls has reconvened this fall with the induction of six new members. Sponsors and new members celebrated on September 29th at Reames Golf and Country Club. Soroptimist is a business women's organization dedicated to community service.
Pictured back row, right to left are:
Judy Phearson, Bridgitte Griffin, Angela Nichols, Pam House, Vickie Noel, Chris Tucker, Jill Russel. Front row: Holly Drew, Vonnie Powley and Ashley Wendt. Not pictured : Angalee Barry.
Judy Phearson was chosen as our Soroptimist of the Year 2009-2010 in May. Her artistic talents awed us all. Her contributions to the Christmas Bazaar included wreaths, an original painting, prints and note cards of that painting and endless hours of volunteering. The note cards were a big hit at the SF Convention this July. Besides her artistic talents, Judy contriubted greatly to the Service Committee and the Spring Fund Raiser. She attends every meeting possible and always has a positive idea to add. Please give Judy a hug and thanks the next time you see her. Great Job, Judy!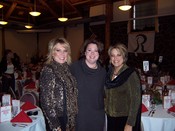 In May 2010 Soroptimists' hosted an International Visitor from Wales
Moira Randal, from SI Great Britain and Ireland, toured the Pacific Northwest and Alaska for a month visiting various Soroptimist clubs, including our own. Moira is the president of her club in Neeth, Wales and is a retired police officer. Her stay included trips to the Baldwin, Favel and Klamath County Museums, the newly renovated police station on Shasta Way and a flight tour over Crater Lake. Moira addressed the club at our regular Thursday meeting. Meeting Moira and learning about her experiences as an International visitor was wonderful. Pictured on the left is the dinner group that came to greet Moira and the picture on the right shows Moira in her native dress. Kristi is in her native dress, too!
Your Soroptimist Club gave away more than $36,000.00 to our community in 2009-2010. The money went to CASA, Hope Community Center, Miss Klamath County/City of Sunshine, SMART, KCC, OIT, Gir Scouts, Camp Evergreen. Crisis Center, Klamath-Lake County Food Bank, Gospel Mission and Norma's Challenge. JoEllen Lake chaired the Service Awards luncheon and it was awesome to hear how our contributions have helped so many lives in Klamath County.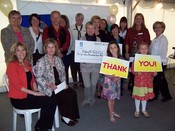 Soroptimists Travel to San Francisco for Convention
In July five intrepid travelers drove down to San Francisco to attend the Federation Convention. Judy Brosterhous, Judy Phearson, Linda Moudry, Kathy King and Holly Drew dared the traffic and the crowds for an enlightening adventure at the Hilton Hotel next to Union Square. The convention drew around 1600 SI members from our Federation. It was wonderful to meet our international friends and the workshops were very helpful. Be prepared for an excellent year in 2010-2011 because your officers are ready ! Oh, did I mention that the shopping was great, too????