Soroptimist Memorial Garden April 18, 2018
Efforts are underway to renovate the Soroptimist Memorial Garden located on the bike path at the corner of Esplanade Ave and The Crater Lake Parkway. With the help of Todd Kepple, Klamath County Museum Director and Native Plant Society President and member of the Native Plant Society Sarah Mallaby, the garden now showcases plants that are eco-friendly to our area. Many thanks to Todd and Sarah for their help in plant selection, site selection and some serious pruning.
Community Service Luncheon
On May 17th Soroptimist International of Klamath Falls held their annual giving luncheon. During this hour over $20,000. were given to local organization to fund their community efforts. Those agencies included: Klamath-Lake Food Bank, Citizens for Safe Schools, SMART Reading Program, Crisis Center, Camp Evergreen, Hope Pregnancy Center and Meals on Wheels. Scholarship donations were also given to Klamath Community College and The Oregon Institute of Technology/Columbia Pacific scholarship fund.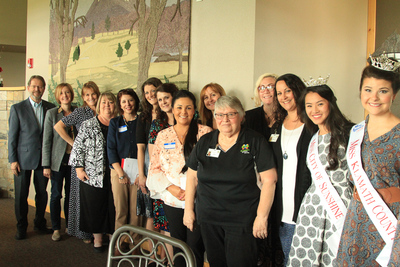 Embrace the 70's - Music of the Bee Gees
This years spring fundraiser is dinner and dancing to the music of the Bee Gees.  Performed by Robin Schwartz & Friends the evening starts ar 6:30 with a no host bar with a Pork Tenderloin dinner to follow.  $45.00 per person, $80.00 per couple. Call 541 892-3107 for tickets.
Click here to view invitation.
The women of Soroptimist International of Klamath Falls have been assisting women and children in this community for 70 years with hundreds of thousands of dollars.
They have been transforming lives through education, inspiration, empowerment and enabling opportunities, according to Molly Hamilton.
"The vision of our club is for women and girls of this community to reach their full potential and aspire for more in their lives; to accomplish their dreams and support them along the way," she said.
Carol Coker, the supervisor of the Healthy Families Program, said "They have been nothing short of miracle workers. Every year, they supply our program with baby items that our families so desperately need."
For 14 years running, the club has provided an annual "community baby shower" that supports the program with a full year of supplies for the children and families they serve. The items that are donated cover every aspect and age from birth to 3 years old. Clothing, bathing tubs and supplies, diapers, wet ones, diaper bags, strollers, toys, books, formula, socks, bibs, car seats and more.
This year alone, the club donated over $5,300 worth of items to support the program. In 14 years, this community baby shower has supplied Healthy Families with over $50,000 in donations to preserve the programs ability to run strong and provide hope, kindness and inspiration to the families they serve.
As published in the Herald & News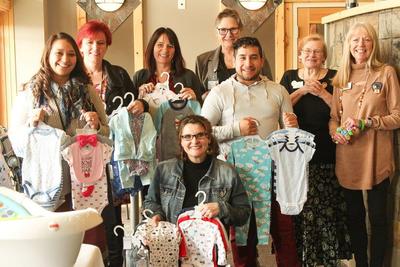 The Winners of the Live Your Dream Award have been named; First Place is Heidi Halemeier and Second Place is Jaime Morris. They will receive their awards at the Awards Luncheon on February 22, 2018.
December 6, 2017  Holiday bazaar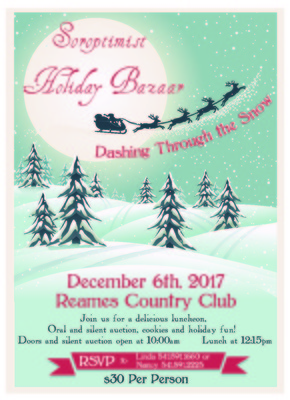 Tickets: $30  reservation is not complete until payment received
Contact Nancy Dey for payment:  nancy@bigjohnsgarden.com
Reames Golf & Country Club..Doors open at 10:30