S. I. Klamath Falls Paying it forward
During the historical research for SI Klamath Fall's 80th Birthday celebration we discovered a gem in an unassuming spiral binder titled Soroptimist Highlights and Condensed Minutes from the NWR 1928 to 1965.  An entry from page 33, "THE TWELFTH MEETING of the Regional Council of NWR, Tacoma Washington, April 23-24, 1938".  Presiding Officer, Regional Director Edith Carhart.  The Credential Committee reported 7 clubs, 24 voting delegates, a total attendance of 61 Soroptimists and 1 Venturists.  The next paragraph reads "In absence of the Treasurer, Secretary Viola Page read her report which showed a balance in the bank on April 22, 1938 of $536.20.  An item in disbursements showed $75.00 on extension work at Klamath Falls which was being organized by Portland." 
The first historical record of the origin of our club had been revealed.  And thus, SI Klamath Falls was chartered 2 months later, the 8th club in our region.
With our vision set for the future, our membership contemplated a way to pay forward the $75.00 donation from 1938.   Knowing that adjusted for inflation $75.00 is currently worth $1,300, our membership overwhelming voted to donate a $ 1,500 Live Year Dream Award to our Northwestern Region.

Soroptimist International of Klamath Falls recently hosted their annual Awards Luncheon at Reames Golf and Country Club. Over forty members and guests attended in order to support and congratulate this year's three Live Your Dream recipients and our Ruby Award recipient.
The Ruby Award honors women who through their professional or personal efforts are making extraordinary difference in the lives of women and girls.  Although this project is not universal with all Soroptimist clubs, SI Klamath falls feels this recognition inspires and encourages other women to help in our community.   This monetary donation goes to the charity/organization of the Ruby recipient's choice.  This year our Ruby recipient chose SI-Klamath Falls as her choice for the donation!  We could not have been more pleased. "Women Helping Women"
A few years ago we began to invite and host former Live Your Dream recipients to our Awards Luncheon.  This year two were able to attend, it was wonderful to see them, listen to their new story and the bright future that they are looking forward to.
It was a beautiful luncheon, filled with emotional tears but yet plenty of laughter and many hugs.  A great success and SI-Klamath Falls membership increased by two.
Soroptimist International of Klamath Falls turns 80!
Join us on May 18, 10:30 am at the Ranch House at Running Y Ranch Resort. We will be celebrating 80 years of community Service to the Klamath Basin and Beyond.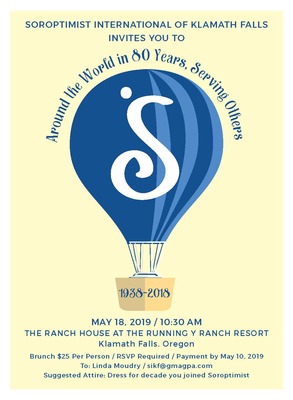 In our continued support of Healthy Families SI Klamath Falls donated over $4,000 of baby items that will sustain the program for a whole year.  Supervisor of Heathy Families, Carol Coker stated "In the fifteen years running, the Soroptimist women have once again out done themselves with their overwhelming generosity and selflessness, we are grateful to all of them".  The donations covered every aspect for children from ages 0-3. 
Healthy Families is a free family support and parent education home visiting program.  Home visitors support parents in cultivating and strengthening a nurturing, positive relationship with their baby.  Parents receive information of topics like child development, infant care and keeping their baby healthy. 
Solid Grounds Equine Assisted Activities & Therapy
Solid Grounds surprised Soroptimist International of Klamath Falls with a plaque in honor of our donation. Solid Ground strives to enhance the quality of life of individuals with cognitive, physical, emotional or behavioral challenges by providing them with therapeutic horseback riding and associated activities. Equine-assisted therapy is a relatively new form of therapeutic intervention which recognizes that the bond between animals and humans fosters emotional growth and healing.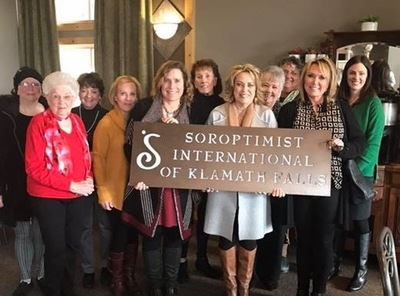 Over the holiday season Soroptimists gathered 50 plus lap robes to be delivered by the Senior Citizen Center to Meals on Wheels participants.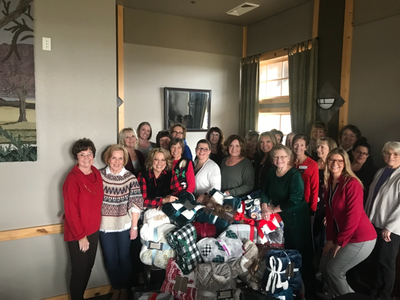 A Season to Cherish Holiday Luncheon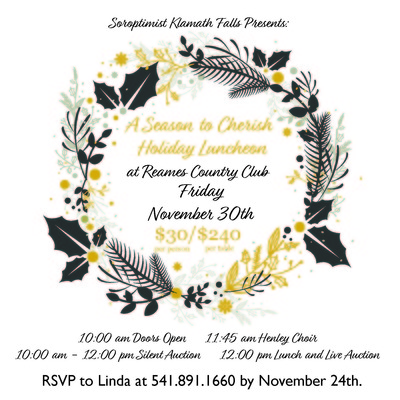 Soroptimist International of Klamath Falls has been funding scholarships to female students from when OIT was formally known as Oregon Technical Institute.  In 1951 the nursing scholarship was $1,000 a year.  Over the years we have increased our support of OIT students by pledging a $10,000 Presidential Scholarship and in 2007 we increased our endowment to $50,000 and a room was named for our club in the Dow Center for Health Professionals. Click here to learn about our 2018-19 scholarship winner Michaela McKelvie
Live Your Dream Award Deadline November 15, 2018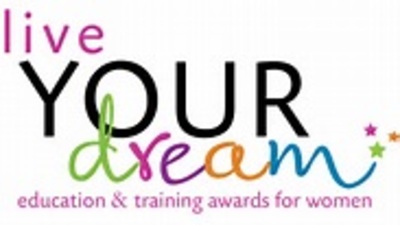 This award aids women seeking to improve their economic status by gaining additional skills, training and education. Women who are the head of their households and must enter or return to the workforce, or improve their employment status in order to support themselves and their families. There are two (2) level awards as specified in the Club budget. Club application deadline is November 15. Region deadline is February 1.  Click here for more information.
In honor of breast cancer awareness month, Dr Jill Fay, from the newly opened Sage Women's Imaging and Specialty Ultrasound, discussed 3D imaging, it's technology and it's role in womens breast wellness.