This award honors women who through their professional or personal efforts are making extraordinary differences in the lives of women and girls. Honorees are women who have worked to improve the lives of other women and girls. Their work has had a significant impact, and also inspires and encourages other women. A Club level donation is made annually with a donation to the charitable organization of the winners choice. Previous award winners, Soroptimists, immediate family of Soroptimists and employees of Soroptimists are not eligible for the award. Club application deadline is December 1.
Application (PDF, 123k)
Honoring Recipients
2018 – 2019
Larita Ongman has been named the 2018-2019 Ruby Award Winner. Larita was honored for her 45 year involvement with the Klamath County School District. She served as principal for both Merrill and Malin Elementary Schools. During her tenure she has worked tirelessly to help students excel in the classroom and with outside activities. Larita generously donated her winnings back to Soroptimist International of Klamath Falls for future service projects. Thank you Larita!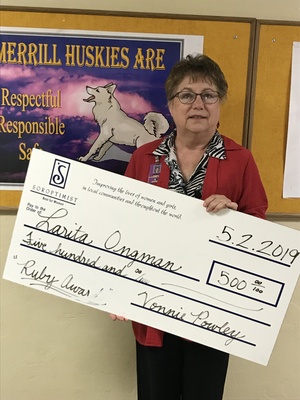 2011 – 2012
Robin King & Diane King owners of Tater Patch Quilts, Merrill, Oregon were named the 2011 – 2012 Ruby Award Winners. Their program "Operation Quilts & Challenge The Hearts" makes and donates quilts to worthy causes. To honor their work Soroptimist made a donation of $500 in their name to Camp Evergreen, a grief camp for young boys and girls.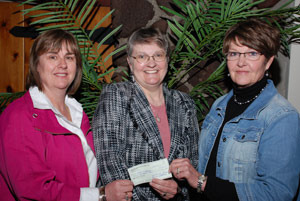 2010 – 2011
Trudy Novak was named the 2010 – 2011 Ruby Award Winner. Trudy orgnaized and has been the leader Project Linus in Klamath County. It is each chapter's mission to provide love, a sense of security, warmth and comfort to children who are seriously ill, traumatized, or otherwise in need through the gifts of new, handmade blankets and afghans, lovingly created by volunteer "blanketeers." Trudy and the local chapter have provided over four thousand quilts to children in our region alone. In Trudy's honor, Soroptimist of Klamath Falls is donating $500.00 to Project Linus, Klamath Falls Chapter.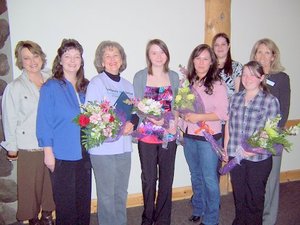 2009 – 2010
Wanda Scheer, representing National Assistance League of Klamath Falls is this year's recipient. The Assistance League was honored for their philanthropy of Operation School Bell. A free, confidential clothing service for all K-12 elementary, junior high and high school students throughtout the city and county.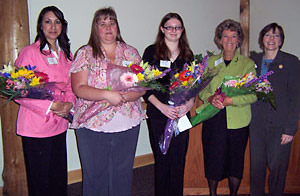 Previous Award Winners
Suzanne Bailey
Josephine Reginato
Trudy Farr
Nancy Wendt
Jean Pinniger
Joann Staunton
Barbara Roufs
Ann Rudd