Partner Links
Soroptimist International, a worldwide organization for women in management and the professions, is a global voice for women through Awareness, Advocacy and Action. Headquartered in Cambridge, England, it is the parent organization to which Soroptimist International of the Americas and it's member clubs belong.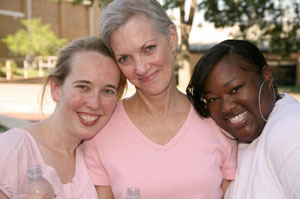 Our Vision
Soroptimist International is a vibrant, dynamic organization for today's professional and business women. We are committed to a world where women and girls together achieve their individual and collective potential, realize aspirations and have an equal voice in creating strong, peaceful communities worldwide.

Our Mission
Soroptimists inspire action and create opportunities to transform the lives of women and girls through a global network of members and international partnerships
Soroptimist International is committed to:
• Service to local, national and international communities
• Active participation in decision-making at all levels of society
It is the policy of Soroptimist International to be concerned with international and national issues that relate to its objects and programmes. On matters of political controversy between nations, of party politics and of sectarian religion, Soroptimist International maintains a position of strict neutrality.
Women at their best, working to help other women to be their best
Women at their best, working to help other women to be their best
Soroptimist was formed in 1921 in Oakland, California, at a time when women were not permitted to join service organizations. Our name, loosely translated from the Latin, means best for women. Today, we have about 160,000 members and supporters in 21 countries and territories. We are one of four federations that make up Soroptimist International, which has clubs in more than 120 countries throughout the world.
Live Your Dream Awards
Soroptimist's Live Your Dream Awards program is a unique education grant for women who provide the primary financial support for their families. Live Your Dream Awards give women the resources they need to improve their education, skills and employment prospects
Dream It, Be It
Dream It, Be It: Career Support for Girls gives girls the tools they need to achieve their education and career goals, empowering them to break cycles of poverty, violence, and abuse.
Empower Women & Girls
LiveYourDream.org is a movement fiercely dedicated to ensuring every woman and girl has the opportunity to reach her full potential, be free from violence, and live her dreams.
The Northwestern Region is one of 26 regions that make up Soroptimist International of the Americas. Soroptimist International of Klamath Falls is one of the 103 clubs, and over 3,000 members, of the region which services Alaska, Washington, Oregon, northern Idaho and Montana.